Yocum Sailing Center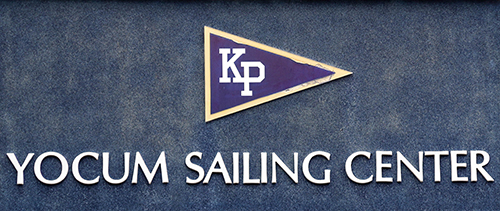 At the North end of the Basin is the Yocum Sailing Center, home of the USMMA Sailing, Power and Crew Squadron. The Sailing Center is a two story structure which overlooks Manhattan, City Island and Western Long Island Sound. Over 70% of the interior structure is dedicated to midshipmen education and training. The first floor houses the Varsity Room (a team locker room and meeting space for visiting regattas), as well as a maintenance area for dinghies and small craft. There are also large locker and shower rooms for midshipmen and visiting teams. The remainder of the first floor is dedicated to the Eletson Small Craft Facility, a 10,000 square foot space, which is used by midshipmen and staff for maintenance and repair of the Academy's training vessels. An indoor, all-weather work bay is able to accommodate the Travelift, and permit work on vessels up to 60' long. Additional work areas are dedicated to machine shops, carpentry shops, and storage. These areas are fitted with modern safety equipment, including explosion-proof electrical fixtures and fire suppression systems.
The second floor of the Center is used for training and administrative functions. The Babson All American Room, as well as a large classroom/lecture hall, are available for use instruction in small vessel handling, towing operations, navigation, sailing theory, marine safety, and many other topics. The Captain Joe Prosser Wardroom is the true showplace of the facility, decorated in the style of the salon of a 19th century sailing ship. Also located there is the Ackerman Maritime Library, with over 1000 titles focusing on sailing and small craft.  There are also offices for the Director, Assistant Directors and coaching staff. The Tyson Pavilion faces West and provides a spectacular view of Steppingstone Lighthouse and Long Island Sound. The Sailing Center is named in honor of the family of Mr. James H. Yocum '47, of Reading, PA.  Jim is a Past President of the USMMA Alumni Association, and a long-time benefactor of the Academy.
Last updated: Thursday, February 6, 2020