Department of Waterfront Operations & Training
INDOC 2021 - LINK TO YOUTUBE VIDEO
Waterfront Teams Spring Season Wrap-up
Dinghy Team –  Spring 2021 Season
This spring represented a significant transition back to normalcy compared to the past year and a half.  USMMA was slated to host our MAISA Conference Qualifiers, the Singlehanded National Championships were re-scheduled in Newport, RI and the Women's, Team Race and Coed National Championships were scheduled at U.S. Naval Academy, so our team had a clear goal over the course of the spring season.
The season was a bit of a rollercoaster ride for our team, with a mid-spring shutdown of all athletic activities due to high COVID numbers as well as losing two of our starting skippers to quarantine in the last days leading up to our qualifier weekend.  Due to our roster depth and perseverance, our team won the MAISA Conference North Qualifier, to qualify for the ICSA Team Race Nationals. This was not only an exciting achievement in its own right with qualifying for a National Championship, but even more so that this was the first time that Kings Point qualified for Team Race Nationals in 25-plus years!!
The MAISA Coed Fleet Race Qualifiers showcased some very tight racing. The Kings Point team found themselves one point out of 1st place going into the final race of the event. KP finished 1st and 6th in this final set, tying us with Hobart & William Smith College overall. Carrson Pearce '21 and Kieran Cullen '21 in A-Division dominated, winning 7 of the 8 races, leading Kings Point to win the tiebreaker!
              In early May, our team traveled to Newport, RI, for the ICSA Singlehanded National Championships.  Four sailors had the privilege of representing Kings Point at the event.  Carrson Pearce '21 competed for the title for his fourth time, following three back-to-back top 10 National finishes. His brother, Carrter Pearce '23, as well as Luke Welker '21 and plebe Dax Thompson '24 all competed in the event for their first time. The weekend showcased some stellar conditions - heavy breeze on the second day and the largest fleet that college sailing has seen with over 40 Lasers sailing on long Olympic-style races.  "Carrson was on track for a great event on Saturday night, holding onto 4th place, but slipped to 11th overall in the heavier winds on Sunday.  He certainly won the lightweight division in my mind." – Coach Rick Dominique. Carrter Pearce '23 finished directly behind his brother in 12thplace. Luke Welker '21 and Dax Thompson '24 sailed well in their first event of this caliber, improving throughout the weekend to finish 23rd and 31st, respectively. 
In early June, the team traveled to Annapolis, MD for two National Championships.  Team Race Nationals was a tough, hard-fought regatta, with KP finishing 12th overall with a 2-14 record. In a discipline where experience is gained not necessarily through practice but through seeing scenarios over and over again in actual races, the event marked a great learning experience for our underclassmen and we look to come back stronger next year. We had a much more competitive showing at Coed Nationals, fighting for a spot just outside the top 10 throughout the regatta. We finished tied for 13th overall.  Carrson Pearce '21 and Kieran Cullen '21 raced in a very competitive A-Division, placing 10th overall, just 19 points in 18 races out of 3rd place!  Our B-Division sailors Luke Welker '21 with crew Marshall Cho '24 and Jack McKenna '24, with crew Ellary Boyd, and finished 15th overall.  Astonishingly, the National Championship was Jack McKenna's first College Sailing regatta this year!  Talk about being thrown into the deep end!
- Coach Mike McBrien
Offshore Sailing Team – Spring 2021
The Offshore Sailing Team got back on the water in late March.  Our first event was the American YC Spring Series, which ran the last weekend of April and the first weekend of May.  Since then we've participated in a few distance day races and a few buoy races all located in Long Island Sound. 
On May 22, a portion of the team participated in a clinic sponsored by the Storm Trysail Club that focused on new crew overboard recovery techniques.  We found it very informative we've modified the way we will execute COB recovery training and actual COB recoveries should they occur.
We have entered a very busy part of our season.  Our J44 (in process of being renamed) sailed a delivery from USMMA to USNA for the start of the Newport to Bermuda Race.  The team made final preparations during the week, excited to return to this offshore race after many years.  The start occurred in very light air and the trip south to the mouth of the Chesapeake Bay was a mix of shifty light air followed by a jib reach.  We emerged into the Atlantic Ocean in third place!  The leg up to Newport, RI was a mix of light-air running and steadier breezes each day.  Two places were lost, including the boat that went on to win our class.  Our elapsed time was 3 days-1 hr-26min-23sec which placed us 5th place in the 18-boat Class ORC-3.
Our spring season will wrap up with Block Island Race Week.  It's a five day event which will consist of four days of buoy racing and one around the island race.  We have three boats participating one of which will be fielded by the dinghy team.
Lastly, I'd like to congratulate my first-classmen on their graduation.  Noah Brunner, John Donovan, Andrew Perry and Neeko Helbich and Andrew Mueller, you were truly one of the best classes I've coached.
- Coach Ken Luczynski
Rowing Team – Spring 2021
The United States Merchant Marine Academy Rowing Team was fortunate to have to opportunity to race at three regattas this Spring season.
The first, the Sacred Heart Invitational (SHU Invite), was held in Shelton, CT. The Mariners went head to head against Fairfield University, Sacred Heart University, and Iona College. The women's varsity four placed 3rd overall. The women's freshman eight tied for second place with Fairfield, beating Sacred Heart's B boat. The men also had a great showing at the SHU invite, placing 3rd in the eight and fifth in the four.
The second regatta of the season was a scrimmage between USMMA, Iona College, and Manhattan College in New Rochelle, NY. The women defeated rival Iona (who had beaten them at the SHU Invite) and claimed the first place prize in the eight. The Novice men's four competed in the varsity category and placed third. The men's double had the strongest showing of the men's program, earning first place overall. The men's pair competed for the first time, putting up a nice third to close the day.
Our Spring season concluded on May 8th in Philadelphia, PA at the Jefferson Dad Vail Regatta. As the largest collegiate regatta in the United States and considered to be the National Championship for small Colleges and Universities, the regatta often will host 100-130 teams from all over the United States and Canada. This year's regatta saw only forty teams compete under very strict conditions imposed by the City of Philadelphia in order to prevent any spread of COVID-19 infection.  Videos of our team's races are posted on the USMMA Kings Point Waterfront Facebook page.
              Despite the constraints and limits of this rowing season, the rowing Mariners recorded one of the most successful and historic Championships in recent years. The Women's team competed for the first time with an 'Eight-person' crew in the Championship and First-Classmen Connor McKim '21 and Sean Alcorn '21 captured a Bronze medal in the Men's Double Sculls event.
              Our midshipmen arrived in Philadelphia on Friday and were able to practice on the Schuylkill River course before the event began early on Saturday morning.
              On Saturday the racing started at 9:30 a.m. with the first Kings Point crew. The Men's Novice crew of Stroke – Noah Ogburn '24, 3 – Trevor Johnson '24, 2 – Adam Dietrich '24, Bow – Caleb McKenzie'24 and Coxswain – Christopher Davitt '24 got the team started with a preliminary qualifying race. The crew had a fine performance but with only the top two crews qualifying for the final, a fifth place was not strong enough to advance.
              Having just returned from Sea and with only two weeks to prepare for racing in the Men's Pair (a challenging race for any rower), 3rd classmen Ethan Margot '23 and Matthew Williams '23 were undeterred. When Head Coach Derek Hartwick asked Margot and Williams to give the 'Pair' a try, they took to the water with confidence and didn't look back. With only one race to prepare for the championships, they were able to put together a great race in Philadelphia. With Margot setting an intense pace from Stroke-seat and Williams following that pace while steering a straight course, the pair) brought home a 5th place in the Final. The duo recorded a solid time of 8:22 despite the changing windy conditions on the Schuylkill River.
Under the direction of Assistant Coach Jackie Kleinhans, the USMMA women's rowing program capped off an historic year by competing at the 2021 Jefferson Dad Vail Regatta.  Despite the challenges and difficulties related to the pandemic, the Kings Point Women's Rowing program has thrived and for the first time in history, entered and competed with a women's 8+ at the regatta. The crew competed in the Frosh/Novice 8+ event category with Lauralynne Nissen '23 at stroke, 7-seat Morgan Fortin '23, 6 - Abigail Edelman '23, 5 - Allessandra Swart '24, 4 - Jillian Lovingood '23, 3 - Amelia Clark '23, 2 - Terah Graber '24, Bow-seat Ashley Gasca '24 and Victoria Austin '23 as coxswain.  In the Final, the USMMA women lined up against LaSalle, Loyola, and Stockton University. USMMA and Stockton battled all the way down the course with no more than a boat-length difference until the finish. USMMA women finished two seconds behind Stockton and taking fourth overall at the regatta.  With only two competitions the Women's team was able to capture victories over Iona College and Sacred Heart. Coaches Kleinhans and Hartwick are extremely proud of this women's crew as they have demonstrated the daily commitment necessary to achieve success.
Connor McKim'21 and Sean Alcorn'21 capped off their college rowing careers with a bronze-medal performance in the Men's Double event. While most college rowing is 'sweep' rowing (each rower uses one oar) both McKim and Alcorn have honed their sculling (each rower uses two oars each) skills over the past four years. Taking to the water in a Double as often as possible truly paid off for these rowers in what was their final race in Kings Point colors. For the first 1000 meters, the race was very tight between Gordon College, University of Rhode Island and the USMMA crew. As Gordon and URI moved ahead, the Kings Pointers responded and made a move to catch the top crews. McKim and Alcorn held their strong position in the front of the pack and well ahead of the other crews in the race. "We rowed a great race, the best of the season" commented McKim following the race. For their efforts, McKim and Alcorn were only a small margin behind the winners and brought Kings Point honor and Bronze medals in this championship regatta.
Overall, it was a challenging but rewarding year for the Men's and Women's Rowing teams. Even though there were very few races, the team performed admirably, established historic precedent and brought home the goods.  With a strong 2025 recruiting class and many athletes returning, the Fall 2021 Rowing season looks promising.
- Coach Derek Hartwick
BREAKING NEWS
The USMMA Kings Point Dinghy Team prepares for the 2021 ICSA Singlehanded National Championship at Salve Regina University, Newport, RI
Coach's Summary of the 2021 Singlehanded National Championship
Coach Rick Dominique gives us a summary of the Kings Point sailors' first of three National Championships this spring.
The USMMA Kings Point Waterfront is in full swing this spring!  Training vessels and teams are competing and representing one of the best waterfronts in the nation.
 2021 MAISA North Conference Champions!
Head Dinghy Coach Mike McBrien sits down with our Dinghy Team to talk about their championship performance this weekend!
Check out the USMMA Kings Point Dinghy Team Facebook Page, or our new USMMA Kings Point Waterfront YouTube Channel to hear the full interview and more:
Congratulations to Carrson Pearce '21, Kieran Cullen '21, Adam Krzesowski 21, Rachel Beisswenger '22 and Tommy Green '23 on qualifying for the ICSA Co-Ed National Championship on Sat., April 17
The Team sailed in challenging light wind conditions, trailing Hobart-William Smith College by one point into the last race.  Carrson and Kieran dominated in A-Division and overcame a premature start in Race #6 by working their way through the fleet to post their only non-first finish of second!  Adam, Tommy and Rachel sailed consistently to put the Mariners in contention going into the final race.  Rachel Beisswenger is just back from sea, without a single  day of practice, but don['t tell her she should be a little rusty! 
The 2021 Co-Ed National Championship will be held an the U.S. Naval Academy ion early June.  Check back here for more information as it becomes available. 
Full Results:https://scores.collegesailing.org
Team Racing:  https://scores.collegesailing.org/s21/maisa-north-national-qualifier-team-race/
Co-Ed Racing: https://scores.collegesailing.org/s21/maisa-north-national-qualifier-coed/
Check out the KP Waterfront Facebook page here: https://www.facebook.com/USMMA-Kings-Point-Waterfront-470196990267
News from RADM Buono:
                                                                                                           
CONGRATULATIONS TO OUR
 GRADUATING SENIORS 
CLICK TO READ BIOS
THE USMMA DEPARTMENT OF
WATERFRONT OPERATIONS & TRAINING
The USMMA Department of Waterfront Operations and Training is responsible for the operation of the Academy's training fleet, Yocum Sailing Center, and waterfront professional, varsity, and recreational programing.
Midshipmen The mission of the Department of Waterfront Operations and Training is to promote Midshipmen Leadership Training and Professional Development through the use of Waterfront Resources.
There are three teams under the aegis of the Department of Waterfront Operations and aining: Varsity Intercollegiate Dinghy Sailing Team, Varsity Rowing Team,and the Varsity Offshore Sailing Team.  This department also oversees the Power Squadron.  Mr. Richard Cain is Director of Waterfront Operations and Training and is in charge of all programing and resources at Yocum Sailing Center.  Supporting Mr.Cain are staff and coaches who form an excellent team that provides the leadership that the USMMA expects of all departments at the Academy. Below is an interview with Mr. Cain:
Interview with Richard Cain
Director of Waterfront Operations and Training
Source:  June 2019 Edition of the Kings Pointer
How long have you worked at Kings Point?
You would think that would be a pretty straight forward answer; however, in my case, not so much.  My Dad (John Cain) was the chief engineer of the T/V Kings Pointer #3, approximately ten years before I was born.  He was a Navy man before that. He often used to work on board the ship during weekends, which allowed me to accompany and watch him at work.  Thus, watching him work on the ship's machinery, I, too, became fascinated by breaking and fixing "things." Being the sixth child (among seven children), my mother was only happy to encourage my weekend trips. So, my father helped nurture my critical thinking skills and focus on the big picture. As a child down on the ship, I had the fortune to meet several people, one being the first Sailing Master Capt. Joe Prosser, seeing him drive his golf cart around with the mermaid on the bow, was pretty cool. The second was midshipman Mark Buzby.  Our Current Maritime Administrator.  My passion for ships and working on them was initiated, and I became a deckhand /engineer onboard the T/V KINGS POINTER in the summer of 1987. I have never looked back. Between my father and me, we have served the Academy continuously from 1958 onwards.
 
Tell me about the different positions/responsibilities you have had here.
As stated above, I started At KP "officially" in 1987 as a deckhand/engineer onboard the T/V KINGS POINTER as a contractor. Onboard ship, I was charged with engine room watches, usually the 12-6 watch. My job was to assist the deck department where needed and everything in between.   I was recruited by Jack Sussi in 1990 to become the fleet engineer and was charged with the upkeep of every moving part and engine on the Waterfront. I served faithfully under him until his death in 1995. In 1995, I was promoted to Marine Foreman in charge of the staff "downstairs." 
I became an Official Government employee as the Assistant Waterfront Director in 1998.  By this time, I had served under all the waterfront directors: Capt. Joe, "as a young lad," Capt. Chris McMahon and Capt. Eric Wallischeck.  After 9/11, Capt. Wallisheck was assigned to the "information and technology department." I became Acting Director until 2007 when the 4th sailing master was hired, Capt. Christopher Gasiorek, class of 95.  That is when I realized I had been here a while. Chris had been a member of the offshore team, and I remembered him well.  I have been fortunate to work with such good people.  Upon Chris's departure, I resumed Acting Waterfront Director until officially hired in March of this year as Director of Waterfront Operations and Training.  All in all, since hired to be the Assistant Director in 1998, I have spent approximately 11 years out of my 20 years as Acting Director.    
What do you enjoy most about working at the USMMA?
Working onboard the training ship (and) at the United States Merchant Marine Academy is a very rewarding job. I rose through the ranks in ten years and became the Assistant Director of Waterfront Operations and Training. I have a top-notch Waterfront team that I lead; they take pride in their "can do" attitude towards every challenge thrown at them. They are more like my family, and I enjoy working with them. We provide an outstanding "learning waterfront" for our students. I take pride in my engagements with the midshipmen and mentor them, which I will always cherish. Each year, we bring in a new class of freshmen who begin their plebe year without knowing what's in store for them.  And, in some cases, without even knowing much about the field that they are about to embark upon. My team of Waterfront professionals plays a vital role in shaping their appetite for the Waterfront and a maritime career. We watch in amazement as they mature over the years and find a world of opportunities when they graduate as a 1st Classman with a degree, a USCG license, and a commission in the armed forces.
What do you hope for the future of the Waterfront?
Several items are on my to-do list.  In no particular order:
Continue to ensure our coaches, staff, and most importantly, our Midshipmen have the resources they need to succeed.
Step up recruitment for all our competitive teams: rowing, dinghy, and offshore. I want our coaches to represent USMMA at high schools and regattas across the country to attract the best sailors and rowers.
Continue to work with the dean and department heads to get our waterfront interactive with a larger part of the regiment. We have one of the best waterfront facilities in the nation, and it is underutilized.
Keep the facilities a priority on the Academy's horizon.   We have good support from our core leadership team, but that is not enough. We need to assess and understand what is expected of us for the next 5/10/75/100 years. Achieving our goals will take involving all stakeholders from Midshipmen to staff to alumni who represent the industry.  Working together with a "can-do" attitude will ensure our Waterfront continues to be a beacon for other schools to model.   
If you have any suggestions on what you would like to see on this site,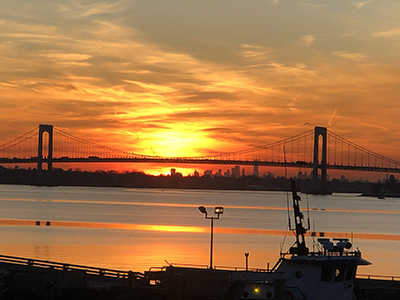 Last updated: Tuesday, August 17, 2021