Department of Waterfront Operations & Training
The USMMA Department of Waterfront Operations and Training is responsible for the operation of the Academy's Training Fleet, Waterfront Athletics, Yocum Sailing Center, and other recreational programing. The Waterfront promotes midshipmen leadership training and professional development through the use of Waterfront resources.
Waterfront Athletics encompasses 3 Division I athletic programs; Varsity Dinghy Sailing, Varsity Offshore Sailing, and Varsity Rowing. The department also oversees numerous clubs teams including Power Squadron, Fishing Team, Tug Club, and other recreational activities. Director of Waterfront Operations and Training, Rich Cain, is in charge of all programing, facilities and assets of the Waterfront. Supporting Cain is a multitude of staff and coaches that provide tremendous value to the USMMA Waterfront.

The USMMA Kings Point Waterfront is in full swing this spring!  Training vessels and teams are competing and representing one of the best waterfronts in the nation.
 
Interview with Richard Cain
Director of Waterfront Operations and Training

How long have you worked at Kings Point?
You would think that would be a pretty straight forward answer; however, in my case, not so much.  My father, John Cain, was the chief engineer of the T/V Kings Pointer #3, approximately ten years before I was born.  He was a Navy man before that. He often used to work on board the ship during weekends, which allowed me to accompany and watch him at work.  Thus, watching him work on the ship's machinery, I, too, became fascinated by breaking and fixing "things." Being the sixth child (among seven children), my mother was only happy to encourage my weekend trips. So, my father helped nurture my critical thinking skills and focus on the big picture. As a child down on the ship, I had the fortune to meet several people, one being the first Sailing Master Capt. Joe Prosser, seeing him drive his golf cart around with the mermaid on the bow, was pretty cool. The second was midshipman Mark Buzby.  Our Current Maritime Administrator.  My passion for ships and working on them was initiated, and I became a deckhand /engineer onboard the T/V KINGS POINTER in the summer of 1987. I have never looked back. Between my father and me, we have served the Academy continuously from 1958 onwards.
 
Tell me about the different positions/responsibilities you have had here.
As stated above, I started At KP "officially" in 1987 as a deckhand/engineer onboard the T/V KINGS POINTER as a contractor. Onboard ship, I was charged with engine room watches, usually the 12-6 watch. My job was to assist the deck department where needed and everything in between.   I was recruited by Jack Sussi in 1990 to become the fleet engineer and was charged with the upkeep of every moving part and engine on the Waterfront. I served faithfully under him until his death in 1995. In 1995, I was promoted to Marine Foreman in charge of the staff "downstairs." 
I became an Official Government employee as the Assistant Waterfront Director in 1998.  By this time, I had served under all the waterfront directors: Capt. Joe, "as a young lad," Capt. Chris McMahon and Capt. Eric Wallischeck.  After 9/11, Capt. Wallisheck was assigned to the "information and technology department." I became Acting Director until 2007 when the 4th sailing master was hired, Capt. Christopher Gasiorek, class of 95.  That is when I realized I had been here a while. Chris had been a member of the offshore team, and I remembered him well.  I have been fortunate to work with such good people.  Upon Chris's departure, I resumed Acting Waterfront Director until officially hired in March of this year as Director of Waterfront Operations and Training.  All in all, since hired to be the Assistant Director in 1998, I have spent approximately 11 years out of my 20 years as Acting Director.    
What do you enjoy most about working at the USMMA?
Working onboard the training ship (and) at the United States Merchant Marine Academy is a very rewarding job. I rose through the ranks in ten years and became the Assistant Director of Waterfront Operations and Training. I have a top-notch Waterfront team that I lead; they take pride in their "can do" attitude towards every challenge thrown at them. They are more like my family, and I enjoy working with them. We provide an outstanding "learning waterfront" for our students. I take pride in my engagements with the midshipmen and mentor them, which I will always cherish. Each year, we bring in a new class of freshmen who begin their plebe year without knowing what's in store for them.  And, in some cases, without even knowing much about the field that they are about to embark upon. My team of Waterfront professionals plays a vital role in shaping their appetite for the Waterfront and a maritime career. We watch in amazement as they mature over the years and find a world of opportunities when they graduate as a 1st Classman with a degree, a USCG license, and a commission in the armed forces.
What do you hope for the future of the Waterfront?
Several items are on my to-do list.  In no particular order:
Continue to ensure our coaches, staff, and most importantly, our Midshipmen have the resources they need to succeed.
Step up recruitment for all our competitive teams: rowing, dinghy, and offshore. I want our coaches to represent USMMA at high schools and regattas across the country to attract the best sailors and rowers.
Continue to work with the dean and department heads to get our waterfront interactive with a larger part of the regiment. We have one of the best waterfront facilities in the nation, and it is underutilized.
Keep the facilities a priority on the Academy's horizon.   We have good support from our core leadership team, but that is not enough. We need to assess and understand what is expected of us for the next 5/10/75/100 years. Achieving our goals will take involving all stakeholders from Midshipmen to staff to alumni who represent the industry.  Working together with a "can-do" attitude will ensure our Waterfront continues to be a beacon for other schools to model.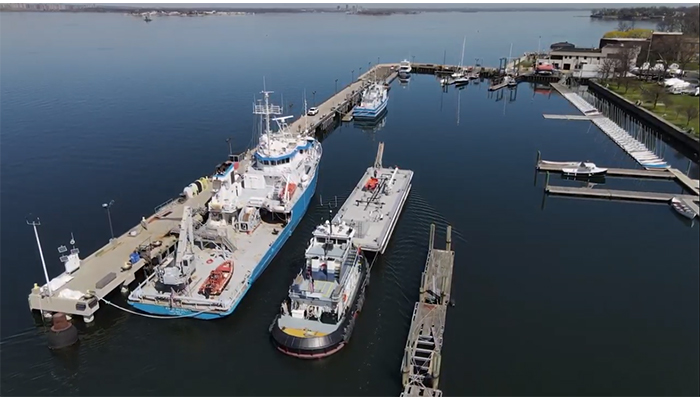 Last updated: Wednesday, August 24, 2022