Athletics
USMMA has extensive men's and women's collegiate sports teams in addition to intramural and club sports. Our varsity sports include Football, Soccer, Men's and Women's Cross Country, and Women's Volleyball in the Fall. Our Winter varsity sports are Baseball, Women's Basketball, Wrestling, Men's and Women's Swimming and Diving, and Men's and Women's Indoor Track and Field. In the Spring, we offer Men's and Women's Lacrosse, Tennis, and Men's and Women's Outdoor Track and Field.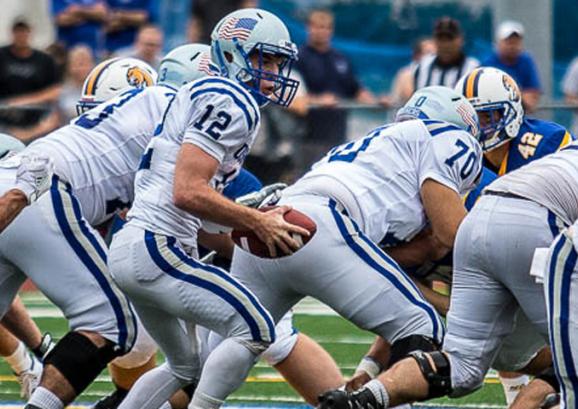 Our Athletic Facilities
On the perimeter of the Academy are athletic fields for football, baseball, lacrosse and soccer, as well as tennis and handball courts and a quarter-mile surfaced track; Furuseth Hall, containing the Department of Naval Science, the Department of Shipboard Training, and the Administrative Services Department; Vickery Gate, home of the Department of Public Safety and Security; O'Hara Hall, which has a spacious gymnasium, an indoor olympic-size swimming pool, and athletic facilities; Patten health clinic; and Land Hall, the Midshipmen Activities Center. Our Waterfront facility, Yocum Sailing Center, overlooks Little Neck Bay and is home of the Intercollegiate Dinghy Sailing Team, the Rowing Team and the Offshore Sailing Team. 
Title

Our Waterfront Teams
Club Sports
The Merchant Marine Academy sponsors a full program of Club Sports as a complement to the Varsity Intercollegiate sports program. Competitive club sports provide the opportunity for Midshipmen to participate in sports not offered at the varsity level and are interest driven.
The United States Merchant Marine Academy's Competitive Club Sport Program promotes health and physical well- being, as well as, physical skill development.  Club Sports also provide the opportunity for Midshipmen to develop and hone skills in athletics, leadership, management, teamwork and other professional qualities that will benefit the participants throughout their life after college.  Additionally, it provides social/recreational opportunities for the entire Merchant Marine Academy community. Club Sports are designed to serve individual interests in different competitive sports and recreational activities.
13:1
Student-to-Faculty Ratio
40+
Registered Student Organizations