Academics
The Academy's four-year program centers on a regimental system that instills its students with the traits of leadership, discipline, and dedication required for a career that typically may include service at sea, maritime employment ashore, and serving as a commissioned officer in the U.S. Armed Forces.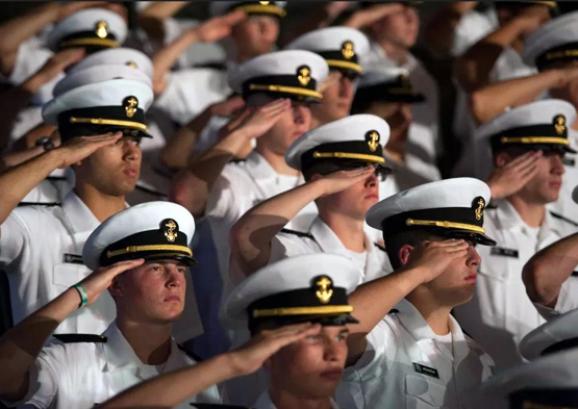 About the Program
The Academy's Regiment of Midshipmen numbers approximately 950 young men and women who represent every state of the Union as well as U.S. Trust Territories and Possessions. The size of the student body contributes to a true sense of camaraderie among the members of the Regiment and permits the Academy to maintain an excellent student-teacher ratio.
A sound college education is the foundation for every profession in our society and the mariner's profession is no exception. The academic curriculum at the Academy is accredited by the Middle States Commission on Higher Education and provides each midshipman with the broad college education required for a bachelor of science degree, with the specialized training for licensing as a merchant marine officer, and with the military knowledge for commissioning in a reserve component of the Armed Forces. Few colleges can offer such a full range of credentials at graduation. 
Title

Academic Departments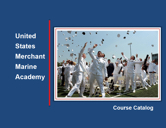 USMMA Course Catalog
View the latest USMMA course catalog for the current school year.
Challenging Environment
The Academy challenges its midshipmen intellectually and physically. The academic program is demanding, the regimental system rigorous. Freshman (fourth class or plebe) year is particularly strenuous as students make the transition from high school graduate to Academy midshipman. In their first few months, they learn many new terms, the quality of endurance, how to perform under pressure, and most importantly, how to successfully manage time. 
During sophomore (third class) year, and again during junior (second class) year, midshipmen are sent to sea for practical shipboard training. Aboard ship, sailing the trade routes of the world, they learn the value of self-reliance and initiative as they gain firsthand experience in the mariner's environment.
In senior (first class) year, they fine tune the skills learned in the classroom and at sea as they prepare to enter the Professional world.
13:1
Student-to-Faculty Ratio
40+
Registered Student Organizations