Regimental Life
The Academy campus and facilities comfortably accommodate the Regiment of Midshipmen. The design of the buildings is simple yet functional, and the campus has been laid out to take full advantage of the picturesque waterfront of Long Island's north shore. The Academy's buildings and walkways are named after individuals whose deeds have brought fame to America's merchant marine.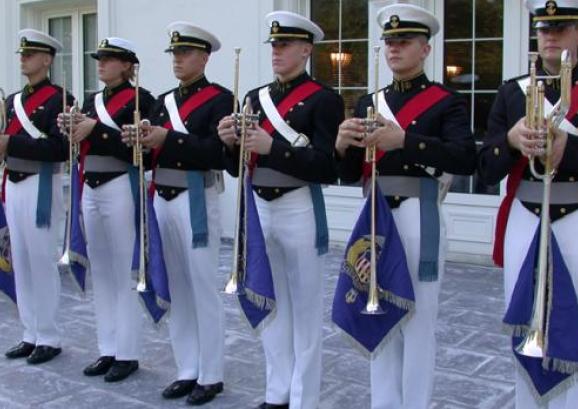 The Campus
USMMA Campus is located at Kings Point, NY. On the slope looking toward Long Island Sound stands a monument to the Academy's World War II casualties. Around this monument are grouped an outdoor swimming pool; a boat basin and the Yocum Waterfront Center; Gibbs Hall, with modern science and engineering laboratories; and Samuels Hall, with Humanities department classrooms, the Continuing Education Office, the Computer Resources Office, a ship's bridge simulator, and laboratories for teaching nautical science. A beautiful interfaith chapel, which serves the religious needs of the regiment, stands on a grassy knoll to the south of the War Memorial.
Although the majority of Academy buildings were constructed during World War II, ongoing modernization programs have rendered the classroom, laboratory and dormitory facilities virtually brand new.
Across the Campus
Wiley Hall, facing Long Island Sound, is the chief administration center of the Academy. Formerly the home of automobile magnate Walter P. Chrysler, this historic building contains the offices of the superintendent, senior members of his staff, and the Admissions Office.
East of Wiley Hall lies the center of the Academy campus, marked by a striking, 172- foot flagpole. Surrounding this landmark are Fulton Hall, the marine engineering and science building; Bowditch Hall, housing the Department of Marine Transportation and the 900-seat Ackerman Auditorium; and the Schuyler Otis Bland Memorial Library.
Delano Hall, the midshipman dining room, and five dormitory buildings - Barry, Rogers, Cleveland, Murphy, and Palmer Halls - complete the circle of buildings enclosing the main campus. The dormitories and dining room are connected by an underground promenade, which contains the midshipman lounge and canteen, uniform shop, post office, laundry facilities, bank, barber shop, and ship's service store.
On the northern border of the Academy lies the McNulty Campus, named after the "father" of the Academy, Rear Admiral Richard R. McNulty, who was instrumental in calling public attention to the need for a federal maritime officer training school. Located in this area is the American Merchant Marine Museum, a popular stop for campus visitors.
13:1
Student-to-Faculty Ratio
40+
Registered Student Organizations