Therapy Dogs Return to USMMA
Kings Point, NY (Oct 25, 2016) - A midst finals week, Midshipmen received a visit from Love on a Leash, Long Island Chapter and their therapy dogs.  Therapy dogs are known to help reduce stress and anxiety while providing comfort and affection to people in hospitals, nursing homes, schools, hospices, disaster areas and for those with autism.  While they are not classified as service animals, they definitely provide a service to students, staff and faculty on campus during a stressful period like finals. Love on a Leash, Long Island Chapter regularly provides this service to the USMMA community in exchange for the joy they bring to the midshipmen.  "The dogs know where they are when they come to the Academy" said Kristen, mother of one of the fluffy friends, "they love to come here" she remarked.
Midshipmen love them too.  They fill the room and overflow into the lobby of the library each time they come to campus.  "Smiles were everywhere" said the Director of Student Activities, Nicholas Rachowicz.  "At a stressful time like finals, these dogs were exactly what we need."
Check out the pictures of the visit on the Office of Student Activities Facebook Album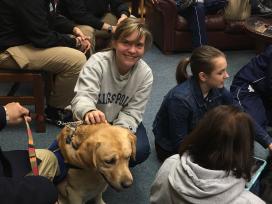 Last updated: Tuesday, October 25, 2016