Cost of Attendance
USMMA Cost of Attendance
Due to the unique nature of USMMA, Cost of Attendance (COA) will vary by student.
In calculating COA, the Academy considers two types of expenses, Billed and Personal Out of Pocket expenses.
Billed Expenses Include:  All Midshipmen Fee services (Laundry, Barber/Hairdresser, and Tailor/Seamstress) are expenses the Midshipmen are billed directly by the Academy at the start of each Academic Year. These fees must be paid in order for the Midshipman to be enrolled at USMMA.  Midshipmen are NOT charged these expenses while at sea.
Personal Out of Pocket Expenses Include:  Various items and services which the Midshipmen are required to furnish at his/her own expense that will not be billed by the Academy. Personal Expenses are estimated and will vary by student.
COA 2019-2020 Academic Year
Figures Current as of 26-April-2019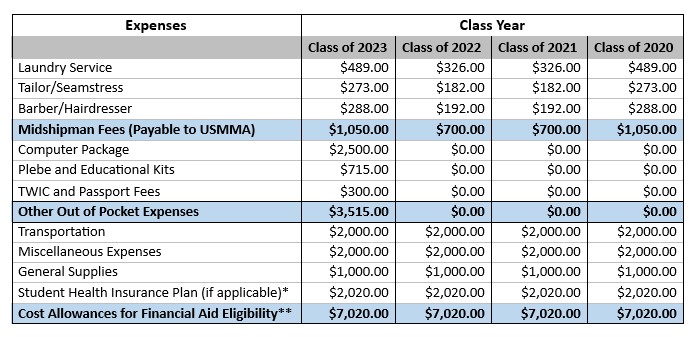 Last updated: Friday, November 8th, 2019