U.S. Merchant Marine Academy Announces Initial Training for Class of 2025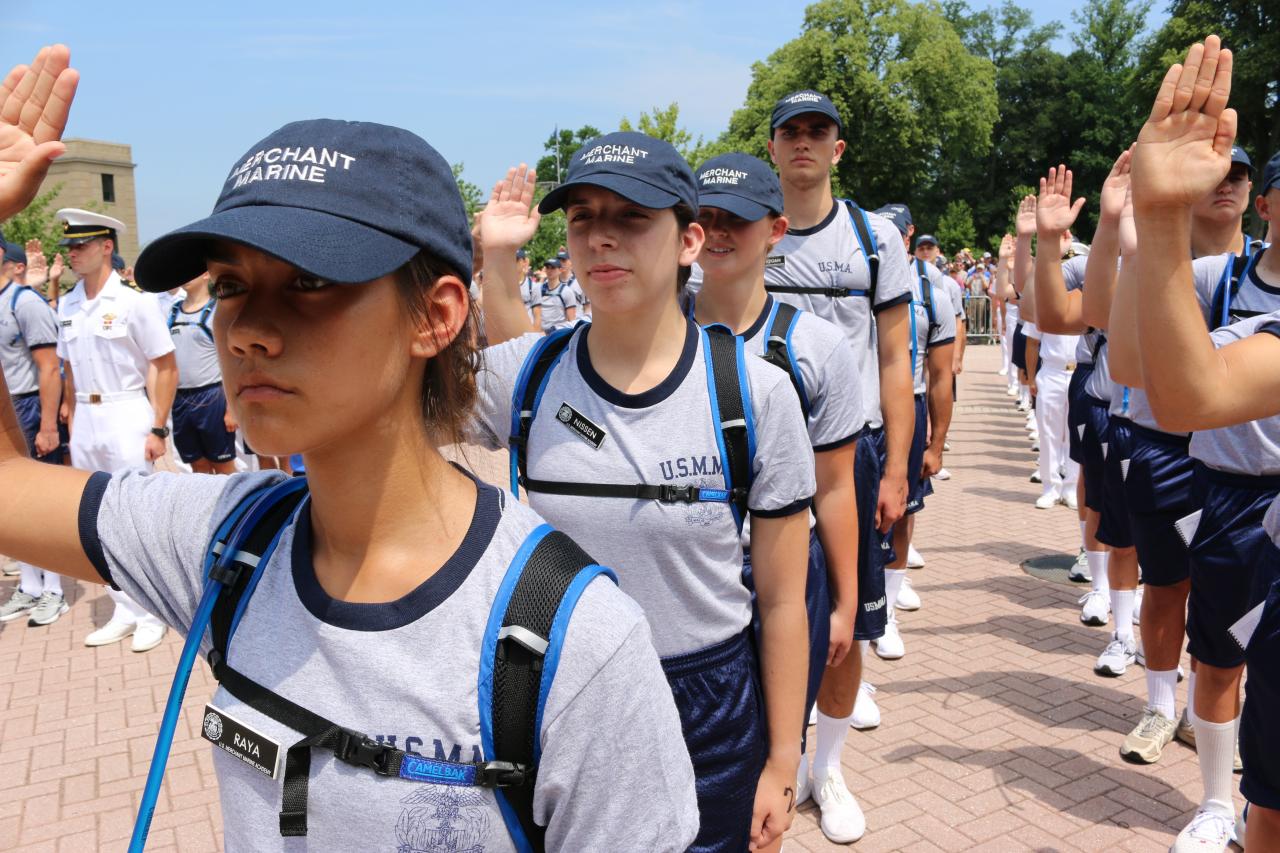 KINGS POINT, N.Y., June 21, 2021 – The U.S. Merchant Marine Academy (USMMA) announced today that the annual Indoctrination training period for the Class of 2025 will commence on July 9, 2021. Candidates will report to O'Hara Hall for "Zero Day" in-processing between 7 a.m. and 11:00 a.m.
Parents and family members are welcome to accompany the new candidates to the Academy where they will also have a chance to meet the leadership staff, including Superintendent, VADM Jack Buono, Academic Dean and Provost, RDML John Ballard, and Commandant of Midshipmen, CAPT Mike Stroud.
The campus will be open to approved USMMA support organizations between the hours of 7 a.m. and 2 p.m.
"We are really looking forward to returning to a much more normal Zero Day and Indoctrination training period this year than last," said Buono. "Last year, parents and family members were not allowed to enter campus, instead they dropped candidates off a Vickery Gate, the main entrance to USMMA."
Parents will be allowed into some places on the campus that provide potential viewing for some of the more unique aspects of a candidates first day at USMMA. There will be a parents briefing at 1100 a.m., and a final wave goodbye on Barney Square, as they take the training oath to begin Indoctrination training.
"Most parents from last year's class have not been to the Academy yet due to restrictions imposed during the global health emergency," said CAPT Mike Stroud, Commandant of Midshipmen. "So this gives the Parents and the families of the new class a great opportunity to visit Kings Point and see the level of training their sons and daughters will undertake."
Media desiring to attend should contact the External Affairs Office at 516-726-6048 (or ExternalAffairs@usmma.edu) by July 5, for credentialing and parking instructions. For travel purposes, the Academy is located at 300 Steamboat Road, Kings Point, NY 11024.
####
ABOUT USMMA
The U.S. Merchant Marine Academy, located in Kings Point, N.Y, educates and graduates leaders of exemplary character who are inspired to serve the national security, marine transportation, and economic needs of the United States as licensed Merchant Marine Officers and commissioned officers in the Armed Forces. President Franklin D. Roosevelt dedicated the Academy, which was established under the Merchant Marine Act of 1936, as the United States Merchant Marine Academy in 1943. It is administered by the Maritime Administration under the auspices of the Department of Transportation.
On the web: U.S. Merchant Marine Academy
On Facebook: @USMMAOfficial
On Twitter: @USMMAO
Last updated: Monday, June 21, 2021