Kings Point Sailor Wins College Sailing Sportsmanship Award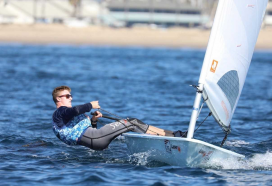 KINGS POINT, N.Y., July 8, 2021 – United States Merchant Marine Academy (USMMA) sailor Carrson Pearce, a member of the recently graduated Class of 2021, has been chosen as the 2021 recipient of the Robert H. Hobbs Sportsmanship Award by the Inter-Collegiate Sailing Association (ICSA), the governing body for sailing competition at colleges and universities throughout the United States and some parts of Canada. The announcement was made last week via a live-streamed virtual awards ceremony.
The award honors Robert Hobbs, past executive vice president of ICSA, past president of US SAILING (1992-1994), former chair of the US SAILING Olympic Committee, and a 1964 graduate of MIT. According to the ICSA, "the Hobbs Trophy shall be awarded each year to the sailor that best exemplifies the Corinthian ideals of sailing. This sailor has made contributions to college sailing through his/her efforts, by competing, promotion of the sport, fostering sportsmanship among teams, maintaining quality of competition, and contributing to the overall performance of College Sailing."
Pearce, who graduated on June 19th with a degree in Logistics and Intermodal Transportation, and was the 2021 valedictorian, sailed competitively for the USMMA team in both double-handed and single-handed events beginning with his Plebe (freshman) year at the Academy. "I am deeply honored and was surprised to find out that I had won the award," said Pearce.  "I've poured my heart into making friends and introducing myself to new sailors I meet, but I had no idea anyone had noticed. I believe sportsmanship is one of the most important parts of sailing, and I'm honored to have been chosen as this year's recipient."
Rick Dominique, the Director of Waterfront Varsity Programs at USMMA, and one of Pearce's coaches, said, "as a coach, I really value this award, in that it takes a person of exemplary character to win it.  The abilities needed to win t won't fade over time like many achievement awards.  We - the entire Waterfront Staff - are incredibly proud that Carrson has distinguished himself, yet again, among his peers."
During his Kings Point sailing career, Pearce was twice named an Academic All-American and was also named to the Middle Atlantic Intercollegiate Sailing Association (MAISA) All Conference team on two occasions. Four times he qualified for the ICSA Men's Singlehanded National Championship regatta, twice he qualified for the ICSA Coed Sailing Championship and was a one-time qualifier for the ICSA Team Race Sailing Championship. 
Carrson Pearce is the second Kings Point sailor to receive the Robert H. Hobbs honor, following Charlie Lomax, USMMA '18.
 "I'd like to thank Charlie Lomax," said Pearce. "He was sailing team captain my Plebe Year, and he told me that the single most important thing to focus on for the next four years was making friends. He said there is no feeling like showing up to regattas every weekend and seeing all your best friends. I took that to heart and made an effort to introduce myself, make new friends, and invest in all my existing college sailing friendships. Because of Charlie's encouragement and advice, my college sailing experience was so much more rewarding and bright than it otherwise would have been."
A native of Manahawkin, N.J., Pearce grew up sailing on Barnegat Bay and competed internationally in the Optimist and Laser classes as a junior sailor from Surf City Yacht Club. He is now an Ensign in the U.S Navy Reserve and will soon sail as a Third Mate with the Military Sealift Command.
-END-
ABOUT USMMA
The U.S. Merchant Marine Academy, located in Kings Point, N.Y, educates and graduates leaders of exemplary character who are inspired to serve the national security, marine transportation, and economic needs of the United States as licensed Merchant Marine Officers and commissioned officers in the Armed Forces. President Franklin D. Roosevelt dedicated the Academy, which was established under the Merchant Marine Act of 1936, as the United States Merchant Marine Academy in 1943. It is administered  by the Maritime Administration under the auspices of the Department of Transportation.
On the web: U.S. Merchant Marine Academy
On Facebook: @USMMAOfficial
On Twitter: @USMMAo
Last updated: Friday, July 9, 2021