Academic Star and Sea Year and Ribbon Ceremony Held for Third Term Awardees
KINGS POINT, N.Y., September 20, 2022 - The United States Merchant Marine Academy (USMMA) at Kings Point recently honored midshipmen who distinguished themselves academically and at sea during the third term of Academic Year 2021–22.
At a ceremony in Land Hall, Midshipman Christopher Quinn, 1/C, the Regimental Academics Officer; Midshipman Anai Walters, 1/C, the First Battalion Academics Officer; and Midshipman Clarissa Reckline, 1/C, the Second Battalion Academics Officer, presented Gold and Silver Stars to midshipmen who demonstrated academic excellence during the period. In addition to the academic awards, Midshipman Jack Drow, 1/C , the Regimental Shipboard Training Liaison Officer, presented Sea Year Ribbons to the Class of 2024 A-Split, First Sailing midshipmen who excelled during Sea Year. In addition, Rear Admiral Susan Dunlap, Deputy Superintendent (performing the duties of the Superintendent); and Rear Admiral John Ballard, Ph.D, Academic Dean and Provost, personally congratulated each awardee.
Ballard commended the recipients by saying: "It was a real pleasure to congratulate so many successful midshipmen on their academic and Sea Year achievements this evening. Knowing we have such dedicated young leaders preparing to enter the maritime profession and the military gives us great confidence in our country and for the future."
The midshipmen were invited to attend a social gathering featuring a fire pit and s'mores after receiving their awards.
The Star and Ribbon event was hosted by the USMMA Academic Center for Excellence (ACE) under the supervision of Captain Paul Acquaro,  the ACE Director.
Gold and Silver Academic Stars at USMMA are awarded on the following basis:
Gold Star: a QPA of at least 3.50 with no course failures in the term;
Silver Star: a QPA of at least 3.25 up to and including 3.49 with no course failures in the term.
Sea Year Ribbons are awarded to those with:
QPA of at least 3.25 up to and including 3.49; no failing grade;
Above average (3.0) Shipboard Performance Evaluations, in PD&CS Shipboard Database at the time of the initial posting of Sea Project grades.
The full list of Gold and Silver Star recipients and of Sea Ribbon recipients is accessible by clicking: Stars and Ribbons Academic Year 2021-2022, Term 3.
###                                                
The United States Merchant Marine Academy, located in Kings Point, N.Y., educates and graduates leaders of exemplary character who are inspired to serve the national security, marine transportation, and economic needs of the United States as licensed Merchant Marine Officers and commissioned officers in the Armed Forces. President Franklin D. Roosevelt dedicated the Academy, which was established under the Merchant Marine Act of 1936, as the United States Merchant Marine Academy in 1943. It is administered by the Maritime Administration under the auspices of the Department of Transportation.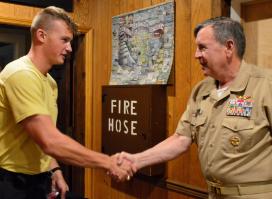 Last updated: Tuesday, September 20, 2022