SAPR Overview
The main objective of the Sexual Assault Prevention and Response (SAPR) Program is to eliminate sexual assault.  The program is staffed by the Sexual Assault Response Coordinator (SARC) to ensure that there is effective progressive prevention training, accountability of incidents, a robust victim advocacy system, and an overall climate of confidence for victims to report incidents of sexual assault 24/7 around the clock.  Sexual assault continues to be a challenge in college campuses across the U.S., as such the Academy believes in addressing the problem head-on to enhance student readiness, empower bystander intervention, and most importantly take care of the safety and well-being of the students, faculty and staff.
Prevention Training
Prevention training is the most critical component in any successful campaign against sexual assault. The SAPR Program provides timely and engaging prevention training to the faculty and staff yearly.  Training for Plebe Candidates begins within the first two weeks arrival to ensure that everyone understands the Academy's zero tolerance for sexual assault and also to provide the incident reporting point of contact.  Midshipmen then undergo quarterly prevention training that begins with baseline knowledge training and progresses in intensity and understanding.  Professional speaking programs are routinely scheduled to provide the latest engaging presentations to further enhance student understanding.
The Academy maintains an active sexual assault prevention strategy that engages midshipmen, faculty and staff.  The objective of this strategy is to increase knowledge and understanding to a problem that affects colleges across the country.  Students Against Sexual Assault (SASA) is a midshipmen led club on campus that works closely with the SAPR Program for the purpose of leading a grassroots movement within the Academy in increasing knowledge and understanding about sexual assault. One sexual assault is one too many!
Resources
Resources available to victims of sexual assault include: Sexual Assault Response Coordinator (SARC), Sexual Assault Victim Advocates (SAVA), Federal Bureau of Investigation (FBI), a campus clinic for medical and counseling services, a campus chaplain, and campus public safety.  The FBI is the leading criminal investigating agency for sexual assault incidents occurring in the Academy.  There is an active partnership with the local rape crisis center should students request outside counseling resources.  The SARC lives on campus and is available 24/7 should anyone need assistance with reporting a sexual assault. Each Regiment company has trained midshipmen SAVAs for the purpose of providing limited victim advocacy and providing another venue to report an incident.
Commitment
The SAPR Program is committed to maintaining an active prevention strategy with the ultimate goal of preventing sexual assault from occurring.  This commitment includes the timely support through a caring victim advocacy program that treats victims with the utmost dignity and respect.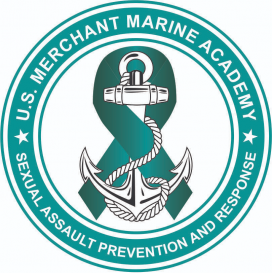 Hotline
516-426-3207
Last updated: Friday, February 3, 2023