USMMA Class of 2021 Commencement to be Livestreamed
KINGS POINT, N.Y., June 18, 2021 - The United States Merchant Marine Academy's (USMMA) 85th Commencement Exercises will begin tomorrow, June 19 at 9 a.m. EDT on Tomb Field at USMMA.
USMMA's second semi-virtual graduation celebration will be livestreamed, and can be accessed on the Academy website's Commencement Link or on our official Facebook page: U.S. Merchant Marine Academy - USMMA
The ceremony is limited to invited guests. However, all are welcome to participate virtually, as U.S. Secretary of Transportation Pete Buttigieg congratulates the Class of 2021 and USMMA Alumnus, Senator Mark Kelly, Class of 1986, delivers the Commencement Address.
Once the ceremony begins, family and friends may access the graduation program by clicking: USMMA Class of 2021 Graduation Program, you may also access the Class of 2021 awards by clicking Class of 2021 Awards Bulletin. You will be redirected to the U.S. Merchant Marine Academy Alumni and Foundation.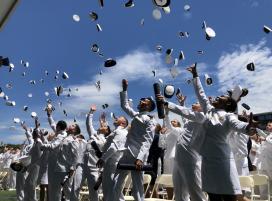 Last updated: Friday, June 18, 2021