USMMA Chess Team Competes in 2023 Armed Forces Open Chess Championship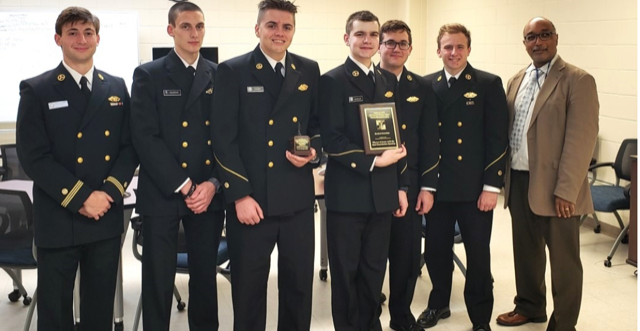 From left(L) to right(R):  Team Leader – M/N Dylan Lomelo, Plebe Damian Kearns, M/N James Nash, M/N Harry Dozor, M/N Quinn Heller, M/N Theodore Williams, Coach/Associate Professor Dr. Kimani A. Stancil
Article contribution by Dr. Stancil.
KINGS POINT, N.Y.  October 17, 2023- Over Columbus Day weekend, the United States Merchant Marine Academy (USMMA) Chess Team competed in the 2023 Armed Forces Open Chess Championship, held at the Washington Dulles Airport Marriott in Loudoun County, Virginia. 
According to their website the annual event welcomes "Current, retired, and former members of the U.S. Military, Coast Guard, and other uniformed federal services, Cadets/Midshipmen attending one of the nation's military academies, and ROTC Cadets/Midshipmen attending a University where they are enrolled in the ROTC program." 
The tournament director and Chief (World Chess Federation) FIDE Arbiter, Mr. Mike Hoffpauir, welcomed USMMA warmly to this year's tournament, and mentioned that this is the first time the team, led by First Class Midshipman Dylan Lomelo and their Coach, Physics Professor, Kimani A. Stancil, Ph.D., has participated in this event since 2004.
Although the top awards went to the West Point Team, Kings Point won two individual awards; 'Biggest Upset', went to Third Class Midshipman James Nash, and the 'Rocket Scientist', "for most unorthodox opening," went to Third Class Midshipman Harry Dozor.  
According to Coach Stancil, "All team members had memorable games including an enterprising middle game and a fancy attacking gem played by Midshipman Lomelo. Second Class Midshipman Theodore Williams displayed very creative and deep conceptual ideas, while Second Class Midshipman Quinn Heller carried the spirit of the team in the last game of the tournament in which he managed to come from behind to draw his opponent!" Dr. Stancil added that, "… the future of KP Chess is bright, as demonstrated by Plebe Damian Kearns when he played a devasting piece sacrifice that prevented his opponent, a good player who defeated Midshipman Williams in an earlier round, from adequately protecting her King, and check mate arrived a few moves later." 
###
The U.S. Merchant Marine Academy, located in Kings Point, N.Y., educates and graduates leaders of exemplary character who are inspired to serve the national security, marine transportation, and economic needs of the United States as licensed Merchant Marine Officers and commissioned officers in the Armed Forces. The U.S. Merchant Marine Academy is administered by the Maritime Administration under the auspices of the Department of Transportation.
Last updated: Monday, October 23, 2023