Campus Capital Improvements
Overview
The Department of Capital Improvement Projects oversees large scale construction projects on the campus.   A series of infrastructure improvements were initiated on the direction of former Transportation Secretary LaHood to provide midshipmen the tools and resources they need for a top-notch education. Some examples are the renovations to the galley of the student cafeteria Delano Hall, campus water main replacement, and renovation of the student dormitories.
The renovation of the last of six dormitories was completed at the end of 2014.  This included individual room heating and air conditioning controls, completely modernized bathrooms for men and women, new fire suppression sprinkler systems, and brand new furniture and mattresses.
The renovation of the Delano galley was also completed in 2014.  These updates have greatly enhanced the efficiency and capabilities of the infrastructure within the dining facility.  The modernized and professionally designed kitchen ensures the students receive quality and healthy meals.
The campus water main project completed in 2015 was a multiple phase project to increase water pressure and volume to the campus.  The project included a comprehensive campus wide recording of existing pressures and volumes, installation by the local water authority of an increased size water main to the campus, a new water distribution and metering pit, and individual building distribution enhancements for those locations that require improved volume or pressure.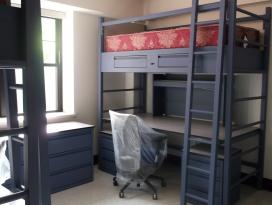 Last updated: Friday, December 16, 2016