USMMA Open Seas Club Hosts Academy's First-Ever LGBTQ Panel Discussion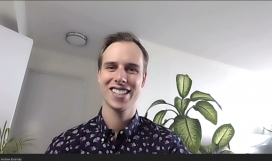 Photo: LT Andrew Baransky, '14
KINGS POINT, N.Y., April 5, 2021 – The Kings Point Open Seas Club at the United States Merchant Marine Academy (USMMA) hosted the Academy's first-ever, LGBTQ Alumni Panel Discussion via Zoom this week. The event which was facilitated by Club Advisor and USMMA Sea Year Liaison, Navy Lt. Andrew Baransky, a member of the USMMA Class of 2014, brought together Academy leadership, faculty, staff, midshipmen and alumni for an informal conversation about tolerance and acceptance.
After welcoming Academy Superintendent, Vice Adm. Jack Buono, alumni panelists, and guests, Lt. Baransky introduced USMMA Assistant Dean for Support Services, Capt. James Zatwarnicki who affirmed Academy leadership's commitment to diversity, equity, and inclusion at USMMA. "Hatred and bigotry are fundamentally rooted in fear and ignorance: fear of what we don't know or understand, and ignorance of the world beyond one's own limited perception of it," said Zatwarnicki. "One powerful way to combat this is to open our hearts, open our minds, open our ears, and just have a conversation like we are doing tonight."
In his remarks to the attendees, Vice Adm. Buono said, "I am encouraged by how many in the community participated in this important discussion. The Academy, supported by MARAD and Department of Transportation leadership, is committed to fostering a culture of inclusion. The interest from the Regiment of Midshipmen and their leadership demonstrates their strong desire to fulfill that goal."
The panel, comprised of alumni who attended USMMA before, during, and after the 2010 repeal of the U.S. Military's "Don't' Ask Don't Tell" policy, shared their personal experiences as midshipmen and Kings Point graduates.
The speakers echoed the sentiments of Capt. Zatwarnicki. One said, "I feel a team is strong when you've got a good group of diverse people there - diverse backgrounds, diverse education, incomes – all of that is important. But what's also important, if you have that diverse team, is that everybody makes their opinion known, that everybody is listened to."
Afterward, midshipmen were given the opportunity to ask questions. Most focused on how to be better allies and promote diversity within the regiment, or after they graduate. Lt. Baransky said, "Do not place responsibility on under-represented minorities to shape the community. Evaluate the campus culture and create opportunities to engage the entire community through events that foster, diversity, equity, and inclusion."  
####
ABOUT USMMA
The United States Merchant Marine Academy, located in Kings Point, N.Y., educates and graduates leaders of exemplary character who are inspired to serve the national security, marine transportation, and economic needs of the United States as licensed Merchant Marine Officers and commissioned officers in the Armed Forces. President Franklin D. Roosevelt dedicated the Academy, which was established under the Merchant Marine Act of 1936, as the United States Merchant Marine Academy in 1943. It is administered by the Maritime Administration under the auspices of the Department of Transportation.
Last updated: Monday, April 5, 2021