USMMA Black Alumni Society Members Visit USMMA for Black History Month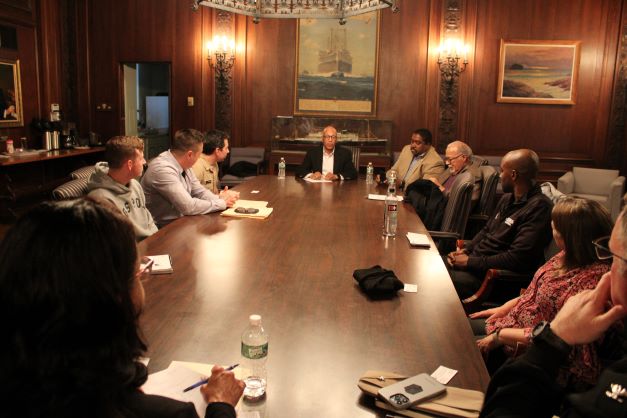 KINGS POINT, N.Y., March 2, 2023 - On Monday, February 27, The United States Merchant Marine Academy (USMMA) had the pleasure of welcoming back distinguished members of the Kings Point Black Alumni Society (KPBAS), as the culmination of the Academy's Black History Month observances.
Captain Reginald McKamie, '75, Mr. Robert Johnson,'62 and Mr. Rodney Caines, '97, spent the day meeting with midshipmen, faculty and staff in support of USMMA's diversity recruitment, campus culture, minority mentorship and career development​​​​​​. Captain McKamie said, our goal is to "have an Academy that looks like America and an industry that looks like the Nation it serves." 
The guests began their visit at the Office of Admissions, where they met Commander Keith Watson, Acting Director of Admissions, and Lieutenant Valerie Gary, Diversity Recruitment Officer. They discussed current recruitment strategies and challenges, and offered their assistance.
After meeting with Vice Admiral Joanna M. Nunan, Superintendent, in Wiley Hall, they met with the Academy's Institutional Culture Committee. The committee, led by Sophia Soler, Equal Employment Opportunity Officer, represented almost every department at USMMA; Veronica Barry, Public Affairs Officer, Lieutenant Commander Antoinette Waller, Second Battalion Officer and Third Company Officer, Captain Ian Jones, Head, Department of Professional Development & Career Services, Julie Hodge, Sexual Assault Prevention and Response Office's Victim Advocate and Prevention Educator, Robert Pryor, Head Coach, Men's Basketball, Captain James Zatwarnicki, Associate Dean of Faculty Affairs and Assistant Professor of Nautical Science, Thomas O'Boyle, Director of Student Activities, and First Class Midshipmen Quinci Elphinstone and Andrew Campbell. The group also discussed challenges to diversity recruitment and brainstormed short and long-term solutions.
The highlight of the evening was a meeting with members of the Cultural Diversity Club and their Club Advisor, Coach Pryor. This event gave midshipmen an opportunity to discuss the shared experiences of black midshipmen and alumni. The intimate setting allowed the group to speak freely about emotional topics and commit to making things better for the next generation of Kings Pointers. Pryor said, "meeting with members from the KP Black Alumni Society is one of the highlights of my year! Their candid insights, wisdom, and commitment to supporting the Academy in its efforts to increase diversity and be more inclusive was inspiring. I look forward to growing our relationship in the future!" The midshipmen agreed. Second Class Midshipman DeMarcus Spivey said, "It was awesome to meet and speak with members of the Black Alumni Society, it is always extremely helpful and motivating to meet someone with a similar background who made it through KP.  As we continue to help grow the culture on campus, it is very reassuring to know that they are supporting us every step of the way. I look forward to enhancing the relationship between the Black Alumni Society and the Academy – especially the Cultural Diversity Club." First Class Midshipman Quinci Elphinstone added, "they reminded us we aren't alone; we just have to stay positive and uplift each other."
Black History Month was established in 1976, when President Gerald Ford urged the public to "seize the opportunity to honor the too-often neglected accomplishments of Black Americans in every area of endeavor throughout our history." The KPBAS alumni who visited USMMA, are very accomplished in their own endeavors. McKamie, who graduated with a USCG Third Mate's License, a B.S. in Marine Transportation, and a commission in the Navy Reserve, sailed on US-Flagged vessels until obtaining his USCG Master Mariner Unlimited, Any Ocean, Any Tonnage License. He was the first Black Alumnus to command a US-Flagged merchant ship, when he assumed command of the 165,000 Dead Weight Tonnage (DWT) vessel, S/S Exxon North Slope, on August 11, 1987. McKamie was appointed as Captain in the US Navy Reserve by President by President Clinton and confirmed by the U. S. Senate, on April 2, 1997. He received an MBA from the University of Southern California and a JD from the University of Houston Law Center. He is an attorney and Certified Public Accountant in the State of Texas. Among his many other accomplishments, he is a two-time recipient of USMMA's Outstanding Professional Achievement Award. 
Robert Johnson, whose career reads a lot like, Capt. McKamie's graduated with a USCG Third Mate's License, a B.S. in Marine Transportation, and a commission in the Navy Reserve. He sailed aboard US-Flagged vessels, reaching the rank of Second Mate, before transitioning ashore as an Assistant Port Captain for a large American container shipping line. He also obtained a Doctorate of Jurisprudence from Lincoln University, in San Francisco. Now, fully retired, he spent many years as an attorney, and as President and CEO of a legal consulting firm. Among his many other accomplishments, he highlights his attendance at his 60th USMMA reunion.
Rodney Caines, who graduated with a USCG Third Assistant Engineers License, a B.S. in Marine Engineering, and a commission in the Navy Reserve, is a Performance Engineering Professional at a mechanical and energy engineering consulting firm based in New York City. He holds certifications with the Association of Energy Engineers; he is a Certified Energy Manager and Certified Building Commissioning Professional. He serves his community as a Board Member of the Town of North Hempstead Community Development Agency (currently serving as Vice-Chairman), as Westbury Water and Fire Commissioner, and as a Volunteer Firefighter. He also serves as a Deacon at the First Baptist Cathedral of Westbury.
Vice Adm. Nunan said, "When I spoke with the Society's President, Rodney Gregory, just one month ago, I said, we would be thrilled to have BAS members visit Kings Point in the near future. In true Kings Point fashion, they delivered. These distinguished Alumni are the embodiment of our motto, Acta Non Verba - Deeds Not Words!"
Last updated: Thursday, March 2, 2023